Metal Prints: Learn Everything About Them
Gone are the days when photos were produced in darkrooms after long waiting times. Nowadays, printing can be performed on various surfaces, including wood and metal. Metal prints have a distinctly modern appearance, while also amplifying and displaying your image in stunning high clarity, brightness, and shine. You don't even need a frame when printing on metal, and there are a variety of mounting options to suit any style.
However, before you choose these beautiful personalized metal picture prints to complement your home decor, you must first understand what metal prints are. When purchasing these, keep the following in mind.
What Is a Metal Art Print?
Metal print art is literally the process of printing your pictures on metal. These are frameless prints that can be displayed as-is. Metal prints are an innovative way to keep art pieces in your home or office for a long time. The best part about these is the long durability of the prints. Metal prints are scratch-resistant, waterproof, and flame retardant. They can stand the test of time and even sunlight. A metal print displayed outdoors in direct sunlight can stay good as new for as long as 2 years. The colours will not fade or the print won't blur out to reveal the metal. Dye-sublimation printing is used to print artwork on metal, which embeds the ink rather than printing it on top. To ensure longevity, the ink is injected into the metal's surface and cemented with heat. It gives a current or rustic scene a modern feel while also altering the tone of the photo you use with it.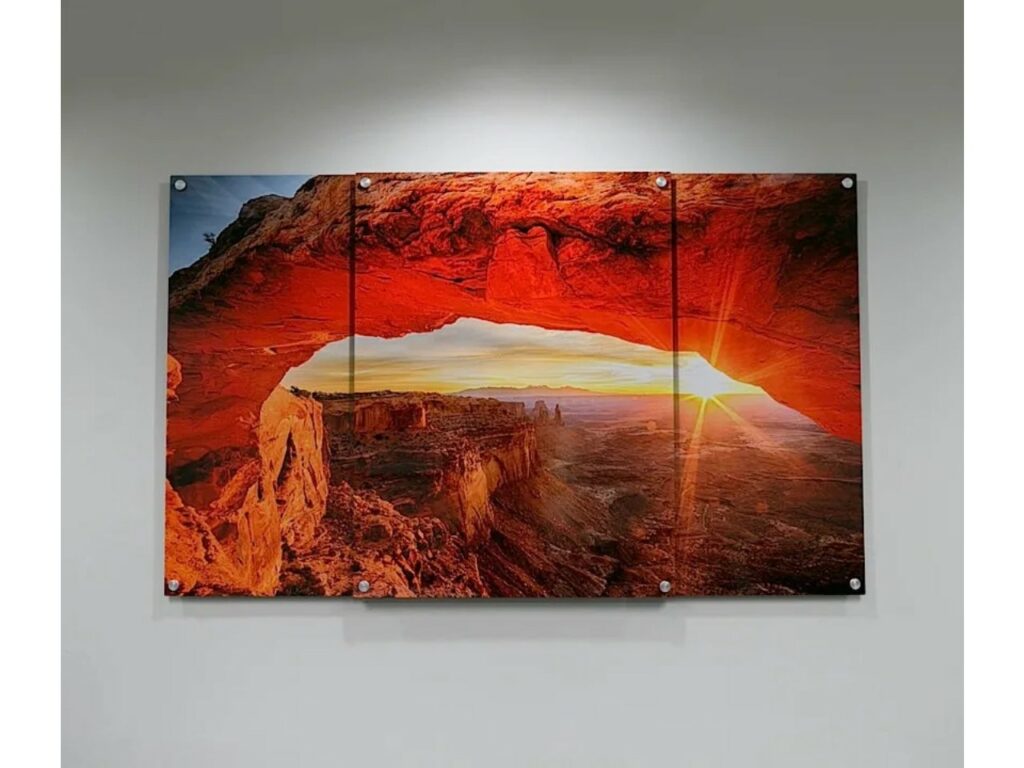 Process Of Making a Metal Print
Metal image prints are an excellent way to display all of your favourite high-definition photographs. They're eye-catching and exactly what you're looking for. When you've decided on the best option, go ahead and create bespoke metal prints from your favourite photos depending on your preferences.
Let's learn how metal prints are made if you're all set to show off your beautiful images.
Choose a photo that you'd like to have for the rest of your life.
Metal photo frames, unlike photo frames, cannot be modified once they have been constructed.
To avoid any blurriness or distortions, it's best to choose a high-resolution photograph.
Next, select a template/layout that best suits your needs.
On our website, you can choose from a variety of possibilities, ranging from lyrics on metal to split metal, and from collage layout to single photo layout.
This is your moment to showcase your inventiveness. Metal prints are available in a variety of finishes.
After you have finalized all the details, simply place your order and be ready to receive your custom metal print.
Why should you choose Metal Art Prints above other options?
Metal printing has the advantage of being a one-of-a-kind process. The photo you choose to go with a metal print can give your picture a modern, industrial, or rustic feel to it, depending on the photo. You have complete control over the appearance of your print. You can use a wide variety of photographs in metal print because of the exceptional visual quality inherent in metal art. Furthermore, its dye-sublimation technology produces higher contrast and colour brightness than traditional prints. You can choose from a large number of different shapes for the metal. In addition to hanging them in picture clusters, you can divide your image into numerous prints that are evenly spaced apart. For more ideas on decoration check out our ultimate guide here.
Types Of Metal Prints
Metal prints also come in a variety of layouts and frames. You should know the type of art you can match with a specific kind of metal print? The quality and type of image you use have a big impact on how many options you have. Following are the different types of metal prints that can make your wall inspiring:
Modern metal art
Framed metal art.
Outdoor metal art.
Split metal art.
Bedroom metal art.
Advantages Of Metal Prints:
Custom metal picture prints give your image an immediate "memorable experience" effect, but that's just the start. If you're looking for a different way to get your art, metal prints have a lot of advantages.
They are strong and long-lasting.
There are several alternatives available.
Finished to a high standard.
It's simple to clean.
They are scratch-proof.
As lightweight as a snowflake, in fact.
Resistant to heat.
This stunning piece of art will be treasured for years to come as both home decoration and a personalized photograph. Metal picture prints, whether on the wall or on the top table, do not require a frame and create a sleek and attractive profile for your images. With personalized metal prints, you can now display your best experiences in a photograph.