Matte Vs. Glossy Photos: Which Finish Is Best for Your Pictures?
When it comes to acrylic photos which are a popular replacement for traditional glass frames, the finish matters a lot. The glass covers can only provide a glossy finish given the nature of glass. Unlike glass covers, acrylics can be produced in both glossy and matte finishes. Not only acrylics but metal prints, posters, and photographs can also be made with different finishes as per requirement. If you are planning a makeover for your home, workspace, studio, or gallery it is important to decide whether you want a matte or gloss finish on your art pieces. Let's find out what is the difference between the two and which one will suit your pictures the best.
Matte vs. Glossy differences and similarities
Glossy prints are literally glossy, that is, they shine and reflect light. Commonly used for posters, the shiny look will make the colours in your photo pop. Almost any form of photography, including black and white images, landscape photos, high-contrast shots, portraitures, and so on, looks amazing printed on a glossy surface. Glossy prints are striking and give off an expensive vibe.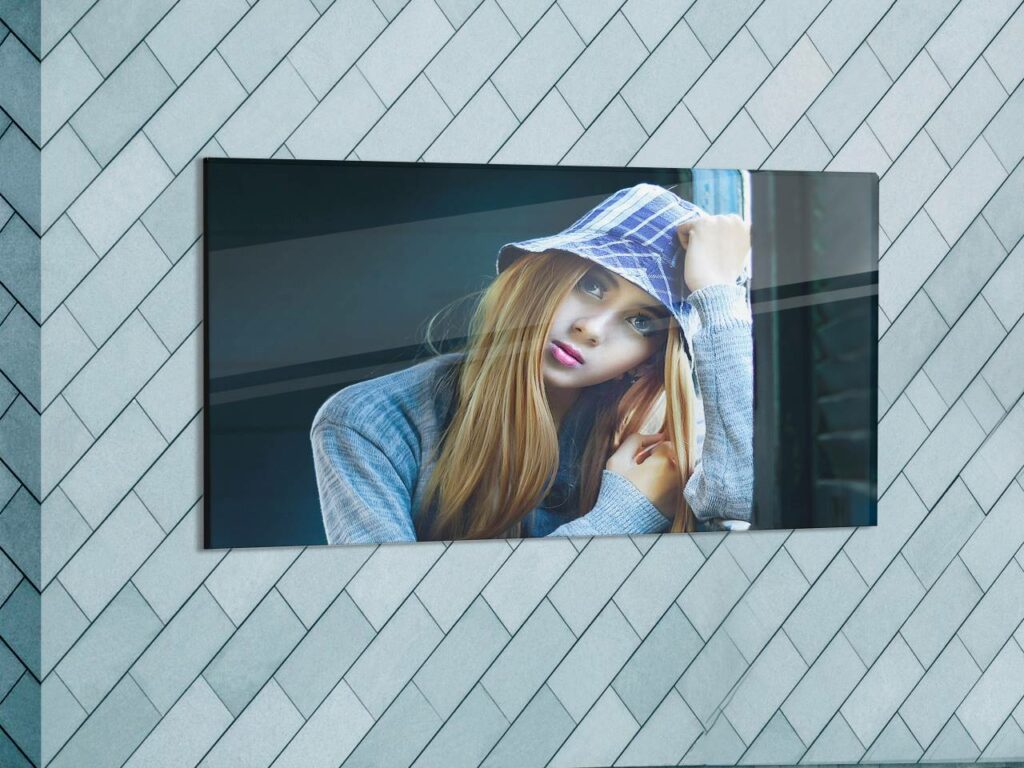 A major downside that a high-gloss finish has is the glare that it causes. So, it's not the greatest option to exhibit your photo in regions with a lot of bright light. If your print will be moved frequently, glossy is usually not the best choice, as fingerprints and smudges can appear on the surface. Finally, Glossy Poster Prints are not advised for photographs with low contrast/subtle gradients or shots that are desaturated/pastel. The colours will remain true, but the shifts, in contrast, will be tougher to detect due to the glare a glossy print causes when contrasted with a matte finish.
The colours, textures, and details come alive when printed on the matte photo paper with world-class printers and premium inks, whether you're printing low contrast or high contrast images, black and white portraits or HDR landscapes, group photos, or macros. You can never go wrong with matte poster prints for printing your photos. If you want to exhibit your photos in places with harsh overhead lighting or if you anticipate they'll be handled a lot, a matte finish is a way to go.
The only reason you will choose matte is if you do not wish to have a glossy finish altogether. If you want to create a sophisticated, modern vibe then the matte finish is perfect. Giving you the gallery look, the matte finish does not reflect light and thus has no glare which makes it the go-to option for areas with bright lights.
Despite being two very different types of cover finishes both matte and glossy have many similar features given they both are used for the same function. Some of these are listed below for you to consider before finalizing one.
Your photo's colours are accurate.
The surface of the picture paper is smooth and homogeneous.
The details are sharp and vibrant.
For more than 200 years, photo prints remain fade-resistant.
They're produced with advanced software, which produces crisp prints on a big scale.
They're printed with non-toxic, water-based inks that are environmentally safe.
The final call
After you've decided whether you want your photo to be glossy or matte, you might want to think about printing it on something other than standard photo paper. You may browse all of our photo art goods at our store OMGs to find the right piece, but here are a couple of our most popular alternatives for Team Glossy and Team Matte.
Acrylic prints are a contemporary new way to exhibit your images. This is among one of our photo art products that will definitely make your picture stand out. The combination of super-vivid printing and unrivalled depth creates a spectacular effect that you just must see for yourself.
Our Canvas Prints are hand-stretched in our warehouse and created using our advanced equipment. They're a great method to exhibit your photo in every room, with any type of lighting, thanks to their design adaptability and satin-matte surface. Wrapped carefully onto a wooden frame the canvas is thick and non-pierceable.