A bathroom is often the easily neglected space in any household even when it is used by all family members. Just like you decorate your living room to make it welcoming for your guests, the bathroom can also be refurbished to be more welcoming and elegant. It is also the only space where you spend your personal time, so it is only viable that you make it comfortable and relaxing. There are many ways in which you can elevate your bathroom style. There can be some furniture placed in the bathroom to keep your essentials. Designing a personalized drawer will not only help you to store your stuff but also give an edge to your bathroom. Similarly, curtains, sleek floor tiles, and accessories for the basin are all examples of how you can change the way your bathroom looks and feels with little to no effort. The walls of your bathroom, which are usually empty, can also be used for decoration purposes.
The best method for keeping your bathroom lively is by adding more photo prints on the wall. The acrylic frames are suitable for a place where they can be displayed at their full potential. And a bathroom has enough space to be used. The pictures can be hung on the walls or set up on the furniture to give a fresh theme to your bathroom with acrylic photo frames. When it comes to choosing the perfect print, there can be a huge number of choices available. Finding a suitable print for a bathroom can be a daunting task which is why we are uploading this blog to help you out.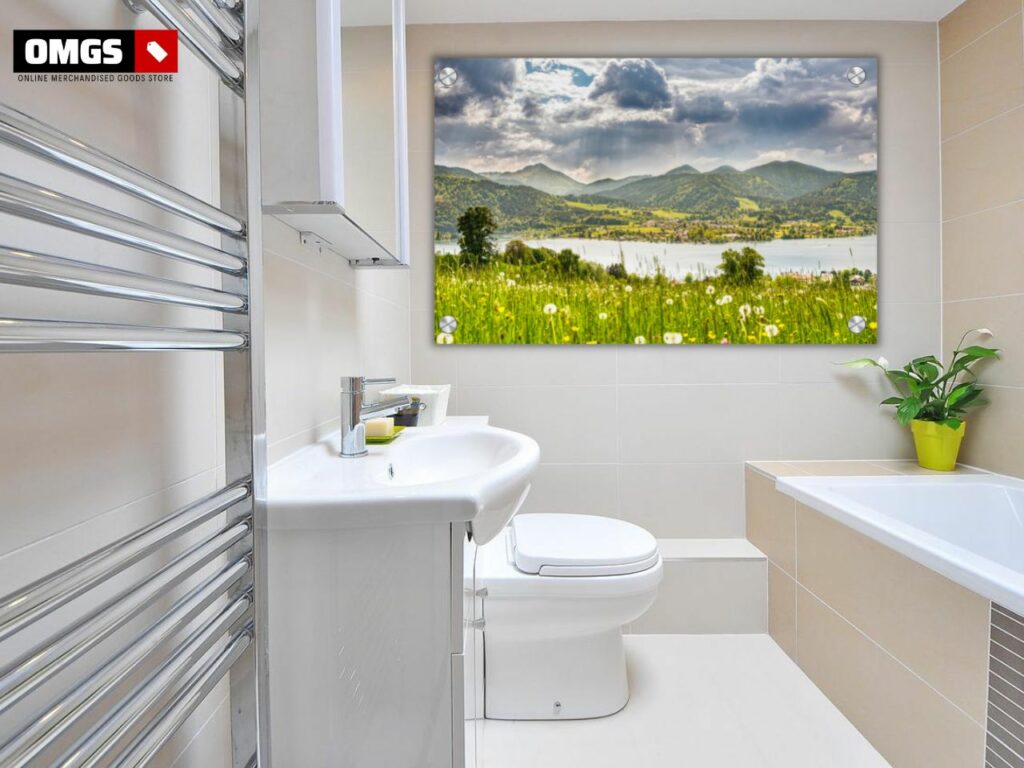 A bathroom with a view
As more and more people live in sky-scraping apartments or tightly packed urban properties, they never get to see a view that relaxes them. Life in the countryside was much calmer and peaceful but in the city, it gets difficult to even wash up at your pace. Only if you have a landscape that stimulates feelings of relaxation and instills peace within, don't you think you will have a better experience in the bathroom? An acrylic photo print with a lush green landscape that teleports you to the mountains can be a great pick for your acrylic picture print for the bathroom. They signify nature in the most appealing and elegant way. You should get your precious nature pictures printed and hung in your bathrooms. After looking at them you might be teleported to a land of mountains with serene views and a peaceful atmosphere.
Go vintage
If you are a 90s kid who loves old Bollywood and Hollywood, then using vintage art can be a great decoration idea for your bathroom. Movie posters and glamorous photoshoots of your favorite actors are not limited to the bedroom. Using them in your bathroom may help you instill confidence as you begin your day. Do you have an idol you look up to? You can look up to them every day if you hang their posters on the bathroom wall. There is one more advantage of using such vintage prints in your bathroom, and that is, you can make your bathroom look vintage. Adding some antique pieces of decor to your space may make it a perfect spot for old souls. Try something different this time and opt for the glam-style theme for your bathroom decor.
Flora and fauna
The most common type of frame design that is chosen by decor enthusiasts is floral. And it never disappoints even if used regularly. You do not need to have an innovative idea for your bathroom or decorate it in unique ways. You can start like a beginner and opt for the safest type of posters and frames. You can look for water painting art prints that give the space an elevated artistic look as compared to the original images. You can also design your own art print using some floral motives or leafy textures and print them. Etsy and Pinterest will give you inspiration on how to incorporate quirky quotes in the design which you can use in your bathroom. You can use wooden or plastic frames with a complimenting color for such prints. It makes the bathroom look more lively and fresh. Add some incense sticks or scented candles and you have your self-care space all set for you.
For gallery-grade frames, we recommend using acrylic material. It is a well-known and popular framing material for the glass-like look of your pictures. The acrylic frames can be made easily online as there are many professional printing stores available on the internet. You can now get your favorite pictures printed in high-quality acrylic frames at an affordable price only at OMGs. Place your orders today!