Are you an interior design fanatic like us? If yes, then you will relate to the frustration of preventing yourself from decorating the house every other day. The newbies might wonder why would anyone suppress such ideas? Well, it is forbidden to make holes in the wall, when there are already so many. The primary decor item to be placed in any space is often hung on the wall after the furniture covering the floor. When you have so many photos you want to display across the house, but don't want to dig out the wall completely, what do you do? Worry not, we are here to share some of our tips that helped us in hanging the photos without damaging the wall.
Before jumping directly to poking the wall, sit and think about the photos you want to display on your wall. You can start by sorting out your images into different categories such as vacation pictures, wedding photographs, self-portraits, nature photography, etc. Once you have chosen the photos you want to hang on the wall, we can begin the process of creating our no-holes display. Read along to find out some alternative ways to hang your photos.
Let the adhesives hold this bond
We can use the traditional fixing tool to fix the frames on a wall, adhesives. Double-sided tapes with strong adhesives on both sides are a great replacement for nails and hooks. These tapes can hold lightweight frames for a long time and won't damage your wall in any way. Acrylic frames are a perfect match for when you want to use adhesive sticky pads for your photo decor around the house. They are not heavy and typically frameless which makes them versatile for decoration without drilling the wall. You can get your pictures printed on frameless acrylic online with Indian stores such as OMGs.
Velcro tape can also be used to hang a large-size photo print or larger posters on the wall. Adhesive hooks can also save the day by preventing your walls from being damaged. They are practically required for the creation of a genuine wall decoration that helps to keep the walls in good shape.
Fairy lights to make it bright
Usually used in children's rooms, fairy lights or string lights are decorative light bulb strings that come in different shapes. For aesthetics, many teenagers like to use these lights to display their favourite moments in the form of polaroids. You can buy these lights online, also available in the form of clips that will hold your photos. You can simply attach these with tape on the wall from the two ends as the lights are battery-operated. For the polaroid prints, there are many sites that allow you to bulk order polaroid prints of your photos. This is a low-cost and alluring method to decorate the rooms without damaging the wall.
Use the shelves and furniture
As interior decorators, we need to look for smart solutions for the no-hole decor mission. You have probably finished your furniture set up by now, so let's take a look around and find empty spaces on the furniture or shelves. You don't have to buy various showpieces or artificial plants for this space when you can place your framed photographs here. Drawer tops, fridge doors, bookshelves, etc are some places where you can fit different sizes of frames for your chosen photos. Inserting your memories in such tiny spots to discover them during your everyday routine is definitely a thoughtful trick. Besides, it saves you the hassle of drilling the walls in every corner of the house.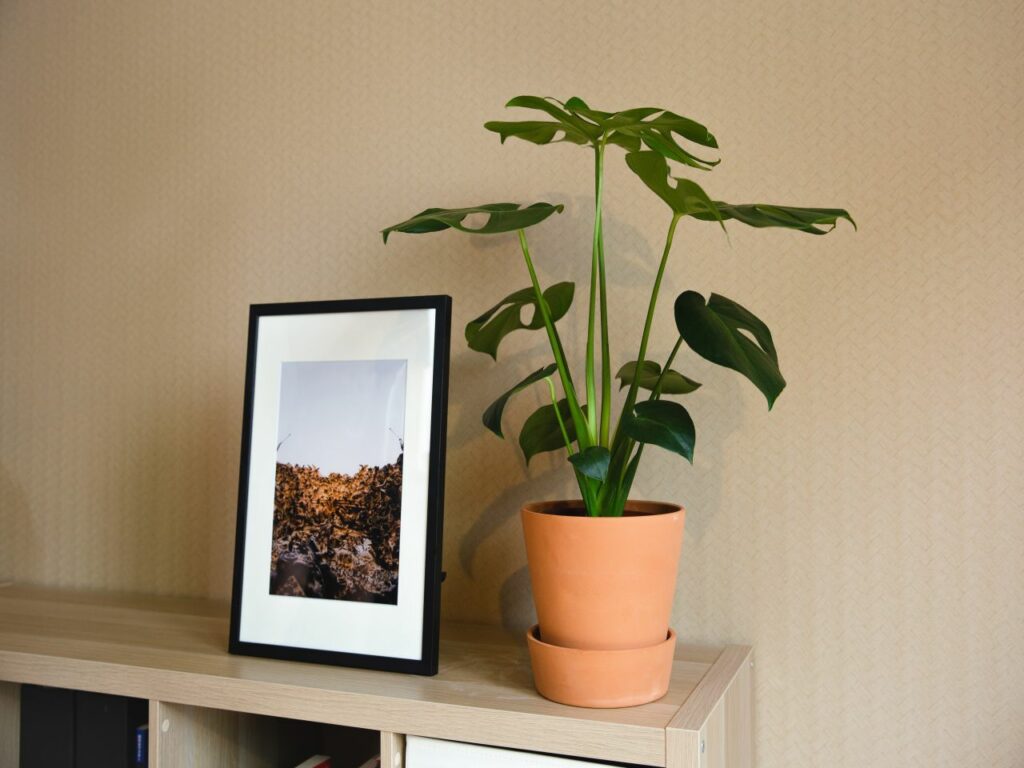 Hold on to your memories with a photo holder
The innovative yet sophisticated tool for decoration has taken over the traditional framed photos that sit on your bedside tables as well. This trendy accessory can easily find a home in the bedroom and other areas of the house in terms of interior decor. A photo holder can go a long way when it comes to decorating your pictures without any nails on the wall. With the help of a photo holder, you can also display your frameless photos on shelves or furniture pieces.
With this, we have reached the end of this blog. These were some of our tried and tested and very successful tricks to replace the nails, hooks, and holes. We hope these methods prove to be helpful to you in decorating your house with photo frames. Let us know how did it go!