5 Ways to Celebrate Independence With Personalised Gifts
India has fought hard and long in the past to gain independence. When it was finally announced as a free nation on 15th August 1947, the whole nation cried and laughed in joy. The memories of the freedom fight can still be relieved through the vast history of our country. On this day of national importance, Indians celebrate the independence of their country with much enthusiasm and warmth towards each other. This is that one day that brings all Indians together irrespective of their differences. Jawaharlal Nehru, India's first prime minister, raised the country's flag over the Lahori Gate of the Red Fort in Delhi on August 15, 1947. The currently serving Prime Minister raises the flag and addresses the country on each successive Independence Day. Everyone gathers and enjoys the various independence day activities organised by communities for the people.
This is also a great occasion to give people something in dear memory of our journey for freedom. This is why we have a list of 5 items that can preserve your memories of the independence day celebration this year. We are going to celebrate at OMGs by offering you custom photo gifts that you can give to people of all ages. You can make them your corporate gifting option this independence day, or get your kids a memorable item. Indians still today feel a strong sense of national pride as a result of this enormous freedom struggle, which makes the celebration of Independence Day a huge event for us. To celebrate this Independence Day and spread the pleasure of independence with your friends and loved ones, buy gifts online.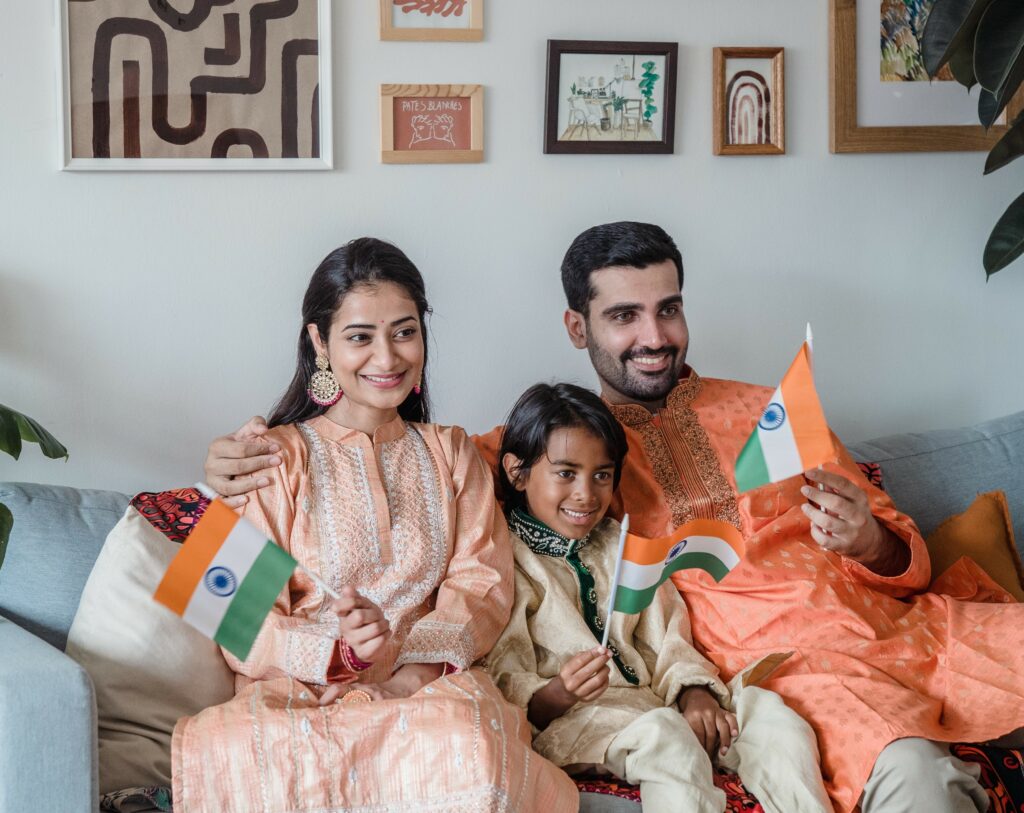 On August 15th, give personalised gifts to your guests
On Independence Day, everyone should get together to hoist the flag, fly kites, and display the tricolour. This year, you can make a small memento for your visitors without straining your creativity or breaking the bank.
Acrylic photo frames: The best option for gifting someone a personalised item is an acrylic frame of a picture that is inspired by the occasion, that is, independence day. You can use a picture of your family dressed in white holding Indian flags or simply a flag hoisted on the red fort. You can find such patriotic images online for free and get them printed on acrylic sheets with the help of online sites. There are many websites that sell high-quality acrylic prints at affordable prices. A small size is advisable if you are making an independence day hamper for your employees or guests.
Canvas flags: A canvas print is a popular option for gifting in larger numbers. On independence day there are many organised events that celebrate by hoisting the flag. In such events, it is only viable to see off your guests with a memorable souvenir. This can be the Indian flag printed on a canvas. If you are holding activities such as a pop quiz, then a canvas photo print can be a gift for the winner as well.
Customised sweet box: It is a tradition to distribute sweets such as laddoo on Independence day. Usually, these are done in small quantities packed in a square box. If you want to make this independence day special for everyone, you can get customised sweet boxes with tricolours on them. You can also get pictures of various freedom fighters on the cover of the box and wish a happy independence day to everyone at the event.
Phone cover: In the digital age, everyone owns a smartphone. What can be a better gift than a personalised phone cover with patriotic images and quotes printed on the back? It is the perfect gifting option for teenagers and youngsters in the house. You can give them a useful accessory while teaching them the importance of this day. So make your kids fall in love with the praised history and teach them the struggle behind independent India.
Metal Hoisted Flag: There is one more item that depicts the importance of independence day and retains it for a long time to come. A flag is hoisted with a metal body. You can gift this flag to honourable p[eople at any independence day ceremony or your favourite history professor. The flag is also a great gift for competitions irrespective of the occasion. The Indian flag is the ultimate embodiment of patriotism among the people of our country, thus it makes the most precious gift for both the receiver and the host.
These were some of our recommendations to make your independence day more memorable and special. You can use these ideas to get your unique yet personalised gifting item for your friends, family and guests. A day worth celebrating for which our ancestors have shed their blood and have struggled a lot should be celebrated with joy and pride.